Author : Jean-Hugues Kabuiku & Mathys Rennela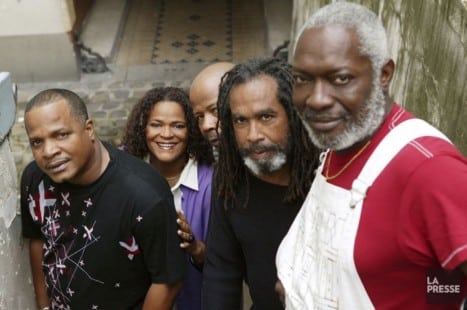 As Black intellectuals rarely live in a vacuum, it's no surprise that there is a thread connecting Black art and Black critical theory throughout the years. The aim of this article is to clarify some of those intellectual connections in the context of dance music, and perceived influences of Afro-Pessimism (and affiliated theories) in dance music discourse. More specifically, we intend here to describe dance music as an umbrella of musical innovations which spread across the African diaspora.
What is Afro-pessimism the name of?
(Afro-pessimism illustrated)
Afro-pessimism is best described by its founding claim that anti-Blackness is at the center of modern-day societal structures. In this context, Blackness is defined as a condition of social death, the Blackness itself being defined in a metaphysical way: starting from chattel slavery, and shaping subsequent historical events as a continuation of it; particularly leaning on US exceptionalism and strangely recognizing European involvement in chattel slavery, but ignoring its consequences within European colonial empires and the anti-colonial struggle who resulted from it.
In particular, a central claim is that anti-Blackness aims to strip Black people not only from their (im)material possessions, but also from their state of being (their Humanity). In this context, the Black struggle becomes unique in the way it operates, leading to an ontological dichotomy between Black people and non-Black people.
Afro-pessimism has attracted criticism from several European Black theorists (such as Annie Olaloku-Teriba, Gloria Wekker and Kevin Ochieng Okoth), firstly because it makes Black activism mostly inept, but also because the US exceptionalist perspective that most US Afro-pessimists adopt not only exclude non-US Afro-descendants from Blackness, but severs historical alliances and contributions to non-Black struggles, reinforcing a false dichotomy which isolates Black Americans from the rest of the world.
Afro-pessimism in dance music discourse
In a way, one can see the popularity of Afro-pessimism in public (artistic) discourse as a solution to the stark dilemma faced by Black (American) artists in (European) white artistic institutions: feeding in the perverse and feckless guilt-ridden obsession of white liberals with artful renditions of Black suffering; or prioritising Black solidarity on a global scale, at the cost of the support of upper/middle-class intellectual cliques which are unwilling to acknowledge their active participation in the systems of oppression they claim to be against.
Another possible appeal for Afro-pessimism in art is that it contributes to a necessary pushback against diversity efforts which conflate marginalised identities in dance music, defining women DJs as a category and treating queerness as a marketing trend, effectively disrupting the internal cohesion in marginalised groups in order to reinforce white supremacist neoliberal narratives.
The framing of this pushback as a form of "tribalism" instead of a defense mechanism only contributes to a greater need for clear boundaries. The false sense of proximity given by social media and easy internet access has led a lot of non-Black actors with no connection to Black communities besides shallow friendships to believe that Black communities and Black focused groups are accurately represented by their presence in academic and/or online spaces. A framework such as Afro-pessimism effectively answers to such concerns within Black communities, by drawing an ontological rift between what pertains to Blackness and what doesn't.
To a much lesser extent, Afro-pessimism translates in dance music discourse, as the global protests against anti-Blackness in 2020 have led to a renewed interest in reclaiming the roots of dance music. But the history of dance music is primarily an oral one, and therefore prone to ideologically-charged historical reading. Storytelling in dance music often comes with a loosely defined agenda. While offering our own perspective on the matter, we take the opportunity to clarify perceived tensions in the Black diaspora in dance music, with a particular focus on the looming dangers and consequences of a failure to maintain a cohesive solidarity among Black communities in dance music.
Far from being limited to the simple act of reclaiming dance music, there has been a consistent effort in the past few years in reclaiming the Black origins of dance music, primarily in an US-centric context (Chicago House, Detroit Techno). One common ideological position in this historiography of dance music is the idea that dance music is intrinsically a Black technological innovation (see for example DeForrest Brown Jr.'s work and his participation in the Make Techno Black Again project). Espousing an Afro-Pessimistic perspective, one can go one step further and theorise dance music as an uniquely Black American technological innovation, which stems from the condition of the ontological slave.
We reject this latter ideological position, and propose instead a view of dance music as a byproduct of the African diaspora, in other words, a diasporic innovation. An arguably lazy rebuttal to this position would be that the contribution of the rest of the African diaspora (especially Black Europeans) in dance music was not a pioneering one, and was entirely built upon the work of Black Americans. Our positioning only makes sense if one abandons a purely US-centric view, to look more broadly in the history of dance music & anti-fascism in the African diaspora. To illustrate our point of view, we focus on Zouk, a dance music genre which makes a predominant use of electronic sounds and whose development is concomitant to the beginnings of House and Techno.
Zouk as a Creole dance music technological innovation
Zouk is a French Caribbean music genre which sits at the crossroad of multiple Caribbean dance music styles, with heavy inspirations from Haitian dance music (such as Compas) and biguine (which combines European ballroom dances and music with West African drum patterns). Originally created by the Guadeloupean band Kassav', it is with the song Zouk La Se Sel Medikamen Nou Ni ("Zouk is the only medicine we have") that the genre received international recognition (in particular in North America, with bands such as La Compagnie Créole associated at the time with the D.I.S.C.O.-famed French producer Daniel Vangarde), peaking with Maldòn by Zouk Machine.
La Compagnie Créole — A.I.E. Larry Levan Remixes, 1987
Zouk Machine — Maldòn (1989)
Kassav' — Zouk La Se Sel Medikamen Nou Ni (1985)
Zouk was occupying a very peculiar space in 1980s Caribbean music, due to its predominant use of synthesizers and drum machines, effectively making it unique among Caribbean dance music genres at the time. The original intent of Zouk, as conceived by Kassav', was to provide a well-polished studio-produced rendition of carnival music, making extensive use of MIDI instruments.
Jocelyn Beroard — Siwo (1986)
Jean-Claude Naimro — Avèou Doudou (1985)
Zouk is fundamentally anchored in French Caribbean culture, and contribute not only to French Caribbean pride but to a conceptualisation and valorisation of French Caribbean culture as a legitimate cultural tradition which can neither be subsumed in French culture and in West African cultures (créolité, that is "creole-ness"). The fast tempo (120–145bpm) and the drum patterns of Zouk are inspired by (and sometimes directly taken from) traditional Guadeloupean folk music such as gwo ka.
Ti Emile — Marie Jeanne Poco Mô
Robert Loyson — Chatte tete rate
Ti Celeste — Chien la jappe
Commercial success led to the framing of Zouk as world music, and a rapid loss of what made it so peculiar as a dance music style. With less and less use of lyrics in Créole, Zouk progressively lost its connection to créolité, and nearly abandoned its status as an expression of French Caribbean pride. Haitian and Dominican influences on the genre led to a rapid disappearance of electronic music elements, to the point where modern Zouk (from the early 2000s) is practically indistinguishable from Compas.
Slaï — Flamme (Zouk love, RnB-infused slow-paced Zouk)
Slaï - La dernière danse (ne rentre pas chez toi ce soir)
Alan Cavé — Se Pa Pou Dat (Haitian Compas)
It is nonetheless apparent that Zouk, in its original form (now named: Zouk béton, transl: Zouk concrete), shares some striking characteristics with House and Techno, as all three genres are diasporic musical innovations at the intersection of electronic music and artistic conceptualisations of Blackness. The Afro-Pessimist perspective described earlier severes those ties, and in the process occults a major part of the Black roots of dance music. And while Zouk has itself lost its connection with electronic music, its impact on French electronic dance music is decisive and long-lasting.
Fast forward to 2021 French Drill Artist Gazo and Tiakola from the band 4Keus paying homage to Kassav'
The french Bass continuum: French rap, French touch
Collective Amnesia: In Memory Of Logobi Courtesy of Christelle Oyiri
The history of French dance music is paved with the appropriation of Black diasporic music, which echoes to France's colonial history. Daniel Vangarde's son, Thomas Bangalter, grew up to become one half of the French dance music duo Daft Punk. To this day, cultural appropriation remains a large taboo in the French (dance) music scene, which has not come to terms with the legacy of France's colonial history and persistent neocolonialist narratives. Nowadays, several party collectives or labels such as La Creole, Pardonnez-Nous, or Sofrito task themselves with the repackaging of (French) Black music for predominantly white audiences, and repurpose Caribbean folk music (through re-issues and (re)mixes), sometimes at the risk of losing its connection to Créolité.
Esnard Boisdur Vs Frankie Francis & Simbad – Soufwans (3AM Mix)
Paris' internationally famed Social Club opened its doors in 2008, with very popular midweek club nights featuring a roster of white DJs specialised in playing Black music. For years, the club received complaints about its perceived failure to give the same type of attention to French Black artists. The regular presence of Black American artists, and the lack of attempts at establishing diasporic connections, only contributed to this tension.
This dynamic directly echoes a nearly century old tension between Black Americans and the rest of the diaspora in Paris. After both world wars, African-American ex-soldiers settled in major European cities such as Paris, and contributed to their cultural output. In particular in the 1920s/1930s, Paris was the theatre of a craze for Black cultures, from African art to African-American music (jazz), which became known as négrophilie (Negrophilia). At the time, Parisian nightclubs were the theatre of a cultural melting pot, in which Black people could enjoy a relative freedom which barely extended at the time outside of Paris' nightlife.
While to a large extent, modern day French culture was formed in opposition to a certain negative perception of American culture as barbaric and unsophisticated, Black American culture is the subject of an avid fascination, which more often than not fell into complete fetishisation, and which never extended to French Black people, in spite of France having the largest Black population in Europe (which could be estimated to ~10%, although statistics are quite unreliable due to France's ban on ethnic statistics).
And while authors such as James Baldwin and more recently Ta-Nehisi Coates have pointed out this stark difference of treatment between French Black people and Black Americans, an ideological rift (heightened by Afro-pessimistic point of views) remains when discussing France's colonial history and institutional racism.
It's not hard to determine why there is such a vested interest in undermining the French Black struggle. Although the French colonial empire is no more, French neocolonial dynamics remain in France's former colonies, in particular on the African continent and in the Caribbean. Exploitative behaviours in France's Overseas departments and territories (DOM-TOM) go far beyond France's definitive abolition of slavery in 1848. The DOM-TOMs remain economically secluded, which translate into a cost of living which is far superior to Metropolitan France while people earn less. A minority of descendents of white settlers (the békés) still holds most of the land (and infamous cane sugar plantations), and lobbies to continue the use of chlordecone, a pesticide banned in Europe.
This history has an undeniable impact on French Black artists. French rap, the most sold music genre in France, has a long tradition of denouncing police violence, racism and classism. One emblematic rap group is "NTM", with their critically acclaimed album "Suprême NTM". French rap is heavily influenced by French Caribbean cultures but also by the Democratic Republic of Congo pantheon of music with a diasporic twist.
Saian Supa Crew — Angela
NTM feat Lord Kossity — Ma Benz
Nowadays, the most successful French Black rappers (Naza, Maitre Gims, Niska, …) are part of this diaspora across the two Congo (when including Republic of the Congo, a former French colony), who share the same musical history and a common language (Lingala), with some Afro-Cuban influences due to the presence of Cuban sailors in the region in the 1930s (which gave birth to the Congolese Rumba).
And although the ban on ethnic statistics makes it hard to quantify the socioeconomic conditions of the Black diaspora in Metropolitan France, the reality is that 17% of immigrants and 14% of their next of kin were unemployed in 2012, compared to 8.6% of non-migrant workers. The poverty rate of immigrants (38%) is 2.7 times higher than the national average.
The anti-crime brigade (Brigade anti-criminalité, or BAC), born out of the May 68 civil unrest and majorly present in the (Black and brown) working-class suburbs of Paris and large conurbations, contributes to geographical segregation and a compartmentalisation of French society along lines formed by class and racial stratification.
Suprême NTM - Police
Those observations ought to be recontextualised in light of the rise of Afro-Pessimism in art (and more particularly dance music), and this now century old tension between Black Americans and Black Europeans. In a lot of ways the popularity of Afro-Pessimism can be attributed to the fact that it is compatible with neoliberalism, and allows to ignore the way Black Americans can participate and enable oppressive white institutions in Europe, even in unconscious or involuntary ways.
While seemingly profound, it contributes to a form of anti-intellectualism, which ignores the colonial histories of countries such as France, favouring instead an historiography of white institutions which fails to acknowledge that their contribution to white supremacy is not simply an US import, but deeply rooted locally. European white institutions are keen to encourage this narrative, as it allows European white people to distantiate themselves from their own colonial history, and frame anti-Blackness as an un-European concept.
Tekkno
Although the spotlight so far has been on France, a similar historical pattern can be witnessed across Western Europe. When DeForrest Brown Jr, addresses the emergence of what the German rave scene will call Tekkno, he states that "Black music had appeared in Germany almost out of nowhere in a way that ought to be reminiscent of the counter intelligence initiatives that the United States had been known to use in previous scenarios involving military occupation."
In some way, this statement participates to the erasure of the Black diaspora in Berlin, which after WW2 was predominantly formed by ex-soldiers (from the US and the African continent), looking for a better life in West Berlin. Former G.I. Smiley Baldwin, a renown techno club bouncer in the German capital, is the perfect illustration of it1.
In essence, when it comes to the cultural appropriation of dance music, taking into account diasporic influences allows us to tell more than half the story. One can easily state that the use of the term "Tekno" in the U.K & France in the free party scene of the early 1990's was picked on by the free party scene in reunified Berlin as it was the perfect incubator for this scene, all while explaining the usage of the term "Tekkno" who indeed is a way of white washing Detroit techno.
This perspective gives justice to the rich history of diasporic influences. It rejects the dichotomy between Black (America) and Berlin (as symbolic of Europe), and a view of Europe as a white continent which to this day critically undermines Black people in Europe, and the important and difficult anti-racist work done by Black Europeans and their allies within their local scenes.
The succinct historiography that we have presented so far leads us to the following closing statements. If engaging in difficult conversations about US colonial history is a key to the understanding of the Afro-American roots of Techno and House (and their whitewashing), it seems clear that capitalism in the whole dance music industry can only be understood by a proper acknowledgement of all the various neocolonial tendencies on both sides of the Atlantic Ocean. By nature, an Afro-pessimistic view on dance music history cannot properly recover all those dynamics. At best, Afro-pessimism can offer a certain view on the historiography of the white-washing of dance music, but neither recover dynamics within the African diaspora, nor allows Black people to be anything more than non-Human entities existing in white artistic spaces.
One counter approach to Afro-pessimism in dance music is to adopt a Panafrican and diaspora-centric view on dance music, which encourages solidarity across the diaspora. This can go through a materialistic approach. As Oliver Cromwell Cox puts it: "in order that capitalism might exist it must proletarianize the masses of workers." Racism is an inevitable construct of the "ideology and worldview" necessary for the desensitizing of the capitalist class. Following this view, tackling the capitalist basis of the dance music industry requires to adopt a broad global viewpoint on the contributions of the African diaspora to dance music. We can rely on historiographies of genres such as Zouk in order to broaden what it means to reclaim the Black roots of dance music. In turns, this invites to a conception of dance music through diasporic cultural exchanges, and interconnects geographically distant threads in the history of dance music.